OTHER INFORMATION
Application Process (for NAD Adventist University Volunteers, aka Student Missionaries)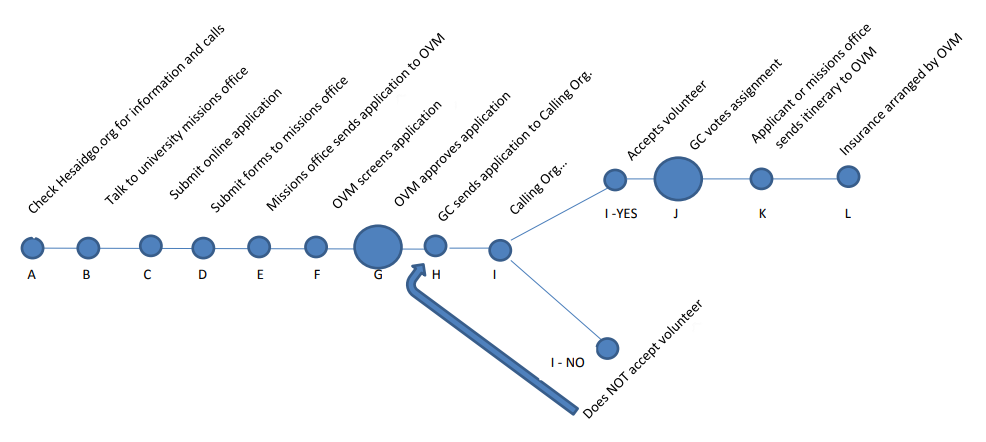 Visual Chart of OVM Application Process
(download)
Financial Responsibilities
It is best to read through the call you are interested in to find out what expenses the volunteer is expected to cover. For example, most calling organizations cover the cost of their volunteer's insurance and a small living allowance, but ask them to pay for travel to the location. The expenses vary depending on the organization, so it is important to check the call.
Serving Again
If you have applied or served as volunteer in the last two years and there have been no changes to your health, you will only need to submit the following to reapply:
Online application
1 new reference
Updated resume (optional, but helpful)
Inactive Applications
Unsubmitted online applications may be deactivated three months after they are started. Submitted applications may also be deactivated if you stop or postpone the process, but we will check with you before we do this. To reactivate your application, contact a Volunteer Coordinator.
Couples and Families
Though there are not as many, there are some calls that can accommodate married couples and even children. This information is listed on the call. Let us know if you would like help finding options. Please note that the following guidelines for couples and families:
Married couples should be married for at least one year before serving. If a couple would like to request an exception, more screening steps will be applied.
If a married volunteer is serving without their spouse, they are limited to three months of service, per Church policy.
Minor dependent children of volunteers should accompany their parents to their service location. Families should not be separated due to volunteer service.
If a volunteer's spouse accompanies them as a "dependent spouse" (he or she is not a voted volunteer), the following forms need to be completed by the spouse and included with the volunteer's forms: